Thank you all for the humbling honor of attending to your spiritual and ecclesiastical needs at St. John's for going on 11 years. I tried to serve you with Christian love and devotion while attending to the physical needs of St. John's. I hope and pray that God will show His abundant Love and mercy to the entire community of St. John's as you go forward without me. The future of St. John's I pray will bring more individuals like yourselves who have made my life at St. John's so rewarding. I tried my best to bring His Love into your lives in order for you to grow spiritually and get closer to our Lord. I am humbled by this experience and thank you for all your support these past wonderful years.
I learned a very valuable lesson while at St. Catherine's Monastery in Egypt. Fr. Andrianos told me that "You belong under the soles of peoples feet, and if you forget that you will lose all the gifts God gave you." This is the root and my modus operandi ever since I left Hermit Adrianos and St. Catherine's. I tried to live this out each and everyday, and I hope you can do the same thing in your own lives. We are all in God's Community and in His Son's Body as believing Christians. As a result, we make up the Church and His Body because of our Baptism in the Name of the Father, Son, and Holy Spirit, Trinity in essence and undivided.
I have resumed Thursday night Bible Study on Zoom, so I you want to join our group please call, or email me in order to receive the invitation. I will continue them even after I leave St. John's, so please feel free to join us. My last Bulletin will be next week and I hope they have helped you throughout the years to overcome the many difficulties encounted in this Fallen World we live in. God Bless All of You!
---
HELLO DEVOTED PARISHIONERS AND ORTHODOX CHRISTIANS OF ST. JOHN'S. WE ARE OPEN, AND THE RESTRICTIONS AND PRECAUTIONS ARE STILL IN PLACE. HOWEVER NOW WE ARE ALLOWED TO HAVE 25 PEOPLE IN CHURCH. THIS INCLUDES THE PRIEST, CHANTER, 1-2 PARISH COUNCIL MEMBERS AND 21 PARISHIONERS. EVERYONE IS REQUIRED TO WEAR MASKS AND/OR GLOVES WHILE IN THE CHURCH. ONLY THOSE WHO ARE IN GOOD HEALTH WILL BE ABLE TO ENTER. IF YOU ARE OVER 65 IT IS UP TO YOU IF YOU WISH TO ATTEND. IF YOU HAD CONTRACTED OR ARE STILL SUFFERING, OR RECUPERATING FROM THE VIRUS YOU WILL NOT BE ABLE TO ENTER.
---
THE PARISH COUNCIL AND FR. VASILIOS ARE PRAYING FOR ALL OF YOU TO STAY SAFE DURING THIS VERY DANGEROUS AND INFECTIOUS VIRUS. MAY GOD KEEP ALL OF US ALWAYS UNDER THE SHADOW OF HIS HEALING WINGS.
ONLINE BIBLE STUDY IS HELD EVERY THURSDAY EVENINGS AT 7:30 P.M. PLEASE EMAIL ST. JOHN'S OR FR. VASILIOS FOR THE INVITATION ADDRESS. ALL ARE INVITED TO PARTICIPATE!
---
"Welcome one another, therefore, just as Christ has welcomed you, for the glory of God." - Romans 15:7
Through this web site, we are pleased to be able to introduce you to that same worship and fellowship as it is expressed in the life of our Parish. If you are a new member of our parish, or are considering membership, these web pages will acquaint you with what our parish offers to those who give it support and sustenance; to those who already belong to the church, we hope they will provide you with the assurance that your sacrificial offerings are received with profound respect, and are utilized to maximum effectiveness. They will, in any case, enable you to make the informed decisions that are necessary for a meaningful relationship with your church!
---
Download 2020 "Stewardship Form" Here Please Click Here
---
To view the last Greek Food Festival click on this link, FESTIVAL 2015. Thanks to NGTV for the video.
---
I have been asked by New Greek TV to host a series entitled "Spiritual Enlightenment" It is seen every Sunday after the Divine Liturgy from 12 noon till 12:15 on NGTV. You may also see them on "You Tube" with the Keywords,or click here "Vasilios Spiritual" for link to the shows, Archim. Vasilios.
---
View This Weeks Bulletin Click Here
---
Service Schedule
Friday, August 28, 2020
7:00 p.m. Great Vespers for the Beheading of St. John the Baptist
No Zoom Bible Study Tonight!
Saturday, August 29, 2020
9:00 a.m. Orthros/10:00 a.m. Divine Liturgy
The Beheading of our Patron St. John the Baptist
Sunday, August 30, 2020
12th Sunday of Matthew
9:15 a.m. Orthros/10:15 a.m. Divine Liturgy
Fr. Vasilios' Last Divine Liturgy @St. John's
NO FURTHER SCHEDULE POSTED!


To See Photos From Parade Click About Us.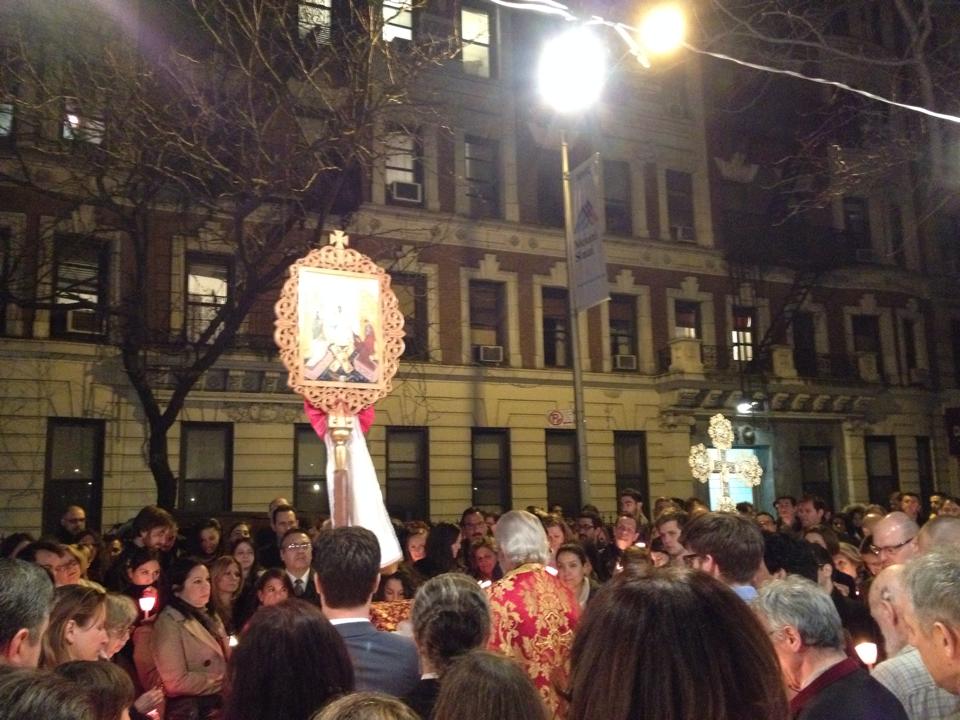 Parish News:
Thanks To All Of You For Making This Year's Festival A Successful One! See All Of You Next Year When We Celebrate Our 75th. Anniversary Dinner.
---
Download 2020 "Stewardship Form" Here Please Click Here
---
Online Chapel